Cylindrical Tanks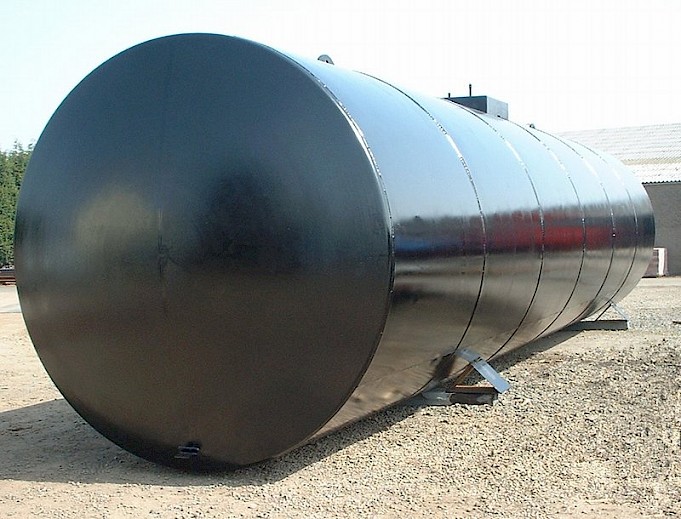 Koronka's ranges of cylindrical tanks are for both above and below ground. These tanks are manufactured in accordance to BS 799 or EN 12285 for the storage of oil or petrol.
The tanks can be manufactured either single skinned, double skinned for underground use or bunded for above ground sitting on cradles. Tanks can have multiple compartments as required.
Cylindrical tanks are bespoke designed and manufactured to suit the space available and can be from 1m dia to 3.5m diameter and length as required
Examples below show conventional single skinned tanks, underground tanks, above ground cradle mounted, with and without end cabinets, to vertical units that require top and tailing on installation.
All models of tanks can be pre fitted with access ladders and platforms should they be required to gain access to the top of the tank. All ladders are manufactured in accordance BS 4211: 2005
ACCESS CHAMBERS - SHAFTS and LIDS:
Click here for information on Fibrelite access shafts & manways to use with our underground tanks:-
Fibrelite Access shafts and manways 720KB
Fibrelite Fixed Height Square Chamber Systems 545kb
Fibrelite Access Cover & Frame Seal Details 223kb
Fibrelite Lift Aid for Access Covers 343kb
Fibrelite Retail Fuelling Pipekits Brochure 565kb
and PPG27 Installation, Decommissioning and removal of underground storage tanks PPG27. pdf file
Groundwater Protection Code Petrol stations and other fuel dispensing facilities involving underground storage tanks.
Cylindrical Image Gallery